Our Service Is Unmatched
The service team at Holiday Mazda has been factory-trained to provide you with exceptional service and ensure your vehicle is performing at its best.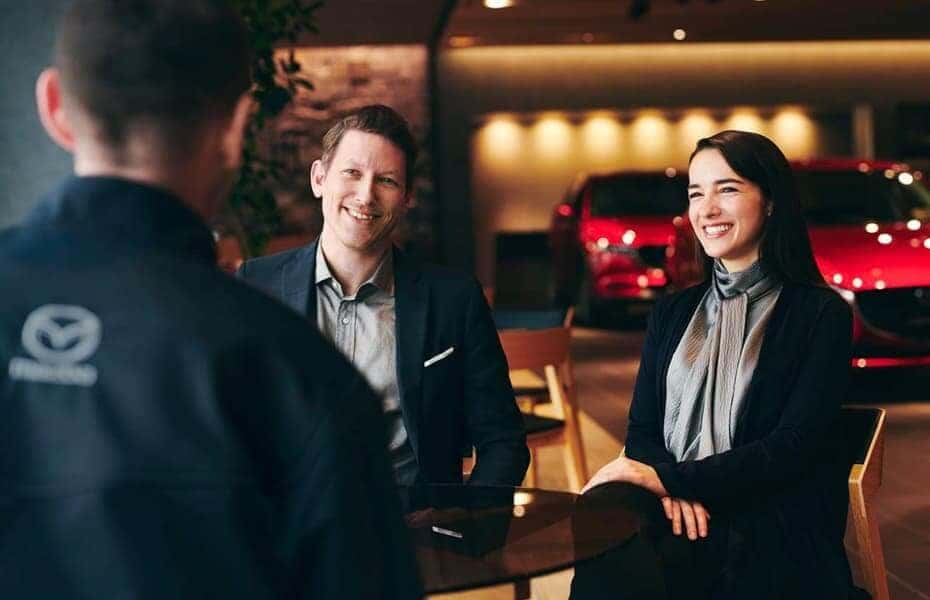 Take One Step Closer
If you're in the market for a new Mazda, take the first step by applying for financing. We'll work with you and our network of banks to get you in the right loan for the right vehicle.
Hannah Gresser was a delight to work with. It was a very smooth process and she made sure I knew what I needed to know about Mazda, as it was my first vehicle from the brand. Donna Speers was also great when it came to the financing.
Easiest car buying experience I've had! Big Thanks to the friendly and professional staff at Holiday Mazda!
For a wonderful experience purchasing a new CX-5 see Hannah Gresser. Very knowledgeable, thorough and provided excellent customer service, highly recommend this dealership and Hannah in particular!
This was my first experience buying a car, and I can't recommend Holiday Mazda in Fond du Lac enough. We worked with Logan, who was extremely helpful. As someone who isn't particularly car-savvy, Logan was patient with my questions, spent time really considering our options with us, and didn't make us feel pressured. We found the whole process very seamless and love our new CX5. Thanks again!
Fantastic buying experience. I was so frustrated with other local dealerships when I walked in their doors. Holiday Mazda took great care of me. Their customer service is exceptional.
I highly recommend Holiday Mazda for a very comfortable, personal shopping and buying experience. I was shopping for a used vehicle and found the best deal at Holiday Mazda. They immediatly addressed any concerns I had in a fair manor. Jarrod made the whole experience fun and fast. They gave me a loaner car (2023 CX-5) while waiting for my purchased vehicle and even delivered it to Appleton for me! Thanks Holiday Mazda!
The absolute best. I worked with Tom Kuitert. Highly recommend anyone in WI come to Holiday for their vehicle needs. Incredibly fair, ethical, and amazing to work with. I purchased a vehicle from them after a lot of comparison shopping. Best deal and all around. Had such a great experience I kept coming back for all service over the last couple years. Mazda are a great product and this team knows them through and through and does excellent business.
Fast response and quick transaction. Stuart was very helpful. Exceeded my expectations for my trade in value and did not try to lowball me.
Drove from Milwaukee to visit Holiday Mazda, and had a seamless experience. Stuart was very knowledgeable and answered all my questions. Stuart and Taylor made my first car buying experience fantastic - I highly recommend!
Made the trip from Appleton and it was well worth it. I had the pleasure of working with Sam Voss - he made the entire process as seamless as possible. We recently bought another vehicle at a different dealership, and it was a breath of fresh air to work with a genuine guy like Sam. Would highly recommend him and Holiday Mazda!
Ask for Jarrod Hart - solid salesman, knowledgeable and efficient.
Best purchasing experience I have ever had. They do business the right way. Professional, transparent, and informative. Worked directly with Ben Wempner, the GM, and Dan Eick. Outstanding. Due to my work schedule, I couldn't afford to drive an hour north and sit in a dealership for hours on end. Worked out a deal over the phone within minutes with Ben. Delivery was very efficient. I spent more time with Alex learning how to use the infotainment than I did with the entire sales process. Thank you again.
Best buying experience I have ever had. Ben Wempner and Dan Eickl were great to work with. None of the BS, high pressure sales techniques. Professional, responsive and respectful. Definitely worth the drive from Milwaukee.
I highly recommend Holiday Mazda. Their no pressure customer focused approach made buying my new CX-50 extremely easy. My sales rep Dan had great communication throughout the process and was very knowledgeable. Eric made signing all the paperwork a breeze. I wish more dealerships had this same approach. Holiday has definitely won me over as a repeat customer.
The experience with had with Natalia and Tom at Holiday Mazda was wonderful. They went it if their way for us but searching for cars and then once we found one, helping us navigate the buying process!
Dan was great to work with! He helped us with lease end options and got us a new lease in our budget. Eric made the paper signing process as painless as possible. All other staff were friendly and courteous. Facilities are gorgeous too!
Just bought my new Mazda CX 30 from Holiday and I just wanted to share my amazing experience working with Sam. Sam, the sales associate was amazing, knowledgeable and he was super nice and straight forward. After dealing with so many dealerships this last week, this has been the best dealership to work with. Customer service goes a long way and they definitely provided that. My transaction was super quick and easy and I did not feel pressure at all. Got out of the dealership within an hour and a half. Thank you to Sam and Tayler for giving us a great experience after such a terrible car journey. We definitely will recommend you and will work with you again.
Overall fantastic! The staff were prompt, and was on top of their game. I had the best service I've ever experienced. My salesman Stuart Powell, had everything laid out and ready to go with accurate prices and information for me just to sit and meet with him and the the team and determine my best purchase option. The next day I came back and it was under a couple hours that I had received my new car and was able to drive it off the lot. Holiday Mazda is amazing, professional, and takes VERY good care of their customers. 10/10 would recommend. On top of the service provided, I am in LOVE with my new 2023 Mazda CX-5! I feel like I am driving on a cloud! Thanks again Mazda! I will be spreading the word to everyone I know.
All the staff were very friendly, they took care of all of our needs in a very timely and courteous manner and they made me feel very comfortable. I had a great experience and would highly recommend them to anyone inquiring.
Excellent! We drove from the Chicagoland area for this particular vehicle. And the Holiday team were great. They were honest and easy to work with and very accommodating. So much so that they even delivered the car to us. We are very happy!
We're from Two Rivers, WI. 9 years ago we needed a car. My wife knew the Mazda that she wanted, but being treated "ho hum" at one dealership and unbelievably badly at another… my wife and I were left sad and frustrated… I tried Holidays' chat function on a whim, "for the heck of it" (they are an hour and a half away). We were treated so well through the chat and some phone calls that we bought our car sight unseen… and it was beautiful and was a great car (9+ years over 220K but may now need a new engine). With our car at Holiday, and after analysis, on life support, we decide to purchase a new one. Dan was assigned to us and was so sincere and genuine and helped us pick the car my wife wanted, which was not available on the lot. He worked with Josh in service to gain a loaner until the car arrived as ours was no longer dependable. When the car we ordered arrived, as we walked into the building to complete the purchase, I saw this incredibly gorgeous car in the window and was thinking, I wonder how much extra that one would cost. We met with Dan, who during all of this mentioned that we were on the friends and family plan, and it was a joke, but it also wasn't. And Taylor in finance wasn't pushing us to accept options that we didn't want, and was really congenial, yet professional. And yes, the car in the window ended up being ours! Outstanding job to the detail team… the car is like like a museum piece… we don't want to drive it, just look at it. Thank you Holiday Automotive! May what you have please catch on. It's why I take the time to write so much and to take the "why do you go all the way to Fond Du Lac" ribbing from friends. We'll do it again…
Sam was great. He showed me everything I needed to know about my new car. Spent time with me. Never felt rushed or under pressure. The whole experience was so easy. Thank you holiday auto.
Clean, classy, and customers are well looked after. Friendly salesmen that took the time to explain all the things about the car I forgot to think about. Also, why would you not by a certified used vehicle from Holiday? Gone thru and made ready to go home. Thank You for being one of the best dealers I've had the privilege of working with.
Logan was attentive, explained everything thoroughly, responses were quick and clear. A true pleasure to work with. And when I ran into a service issue at 530pm, Logan came to the resulted and made it so easy to get my vehicle in to get looked at. His followup and quick action just reaffirms that I made the right choice coming to Holiday Mazda for my vehicle purchase!
This dealership is very rare from sales to service like it use to be where Customer Service & Satisfaction is number one. They make sure you are comfortable through out the complete relaxed no pressure sales process. Service is top notch from the minute you enter the service area until you leave. You are greeted before you get out of your car and you are updated on the service process by the service writer in person and a video text that you can watch the inspection process. Thank you to the entire Holiday Mazda Staff especially to Hannah, Scott and Ryan. We will be back for our next vehicle purchase.
Holiday Mazda
Fond du Lac, WI
416 N Rolling Meadows Dr, Fond du Lac, WI 54937
Hours
Sales
Monday - Thursday: 8:30 AM - 7:00 PM
Friday: 8:30 AM - 5:30 PM
Saturday: 8:30 AM - 5:00 PM
Service
Monday - Friday: 7:00 AM - 5:00 PM
Saturday: 8:00 AM - 12:00 PM

Welcome to Holiday Mazda
Your Mazda Dealer in Fond du Lac, WI
If you are looking to purchase or lease a new Mazda vehicle in Fond du Lac, WI, there is no better place to shop than Holiday Mazda. Our outstanding selection of new Mazda vehicles ranges across all trim levels, styles, colors, and options to provide one of the best selections around. From MAZDA3 sedans to MAZDA CX-5, MAZDA CX-50, and MAZDA CX-90 crossovers, we have them all. We also stock an extensive inventory of pre-owned vehicles for sale in Fond du Lac, WI. We have something that meets everyone's needs.
We believe in transparent pricing which means you get our best price upfront. We even offer a full finance department where we work hard to find a payment plan that's right for you. Your needs will always come first at Holiday Mazda and our knowledgeable sales staff can help answer any questions you may have along the way, so you can be sure that you will find that perfect new or used vehicle in Fond du Lac, WI. If you have any questions, please do not hesitate to give us a call today or contact us online anytime. Holiday Mazda is conveniently located at 416 N Rolling Meadows Dr, Fond du Lac, WI, and we welcome guests from all the surrounding areas including Oshkosh, Ripon, Lomira, Neenah, Menasha, Appleton, and Sheboygan.