What is the Premium package for the 2020 Mazda CX-30?
By Product Expert | Posted in Mazda CX-30 on Tuesday, January 28th, 2020 at 8:00 am
Features of the 2020 Mazda CX-30 Premium package
Are you looking at the newest Mazda model in the Mazda SUV lineup? The 2020 Mazda CX-30 is attracting many, and its features make it a truly smart buy. Want to learn about the features of the 2020 Mazda CX-30 Premium package? We have answers.
What are the trim levels of the 2020 Mazda CX-30?
Like the 2020 Mazda3, the 2020 Mazda CX-30 does away with your normal trim levels and instead uses packages. As such, you have the base model without any packages, and above that, you have the Select package followed by the Preferred package and the top Premium package. In this way, the 2020 Mazda CX-30 really has four trim levels. They are just called packages.
---
Difference between the Mazda CX-30 and Mazda CX-3
---
What features are unique to the 2020 Mazda CX-30 Premium?
There's a lot of little improvements to the Premium package and some major ones but let's get the little ones out of the way first. With the Premium package, you get paddle shifters, roof rails, and a power moonroof. You also get LED headlights and taillights. In fact, those headlights are adaptive meaning that they will follow the curves of the road ensuring visibility when you need it most.
Is the 2020 Mazda CX-30 available with a heads-up display?
One of the most impressive features that the Premium package includes is what Mazda calls the Active Driving Display. This is a heads-up display that projects on to the windshield and gives you all the important information that you are looking for. Speed, directions, and more can all be seen right in your eye-line on your car's windshield.
Read More: 2020 Mazda CX-30 color options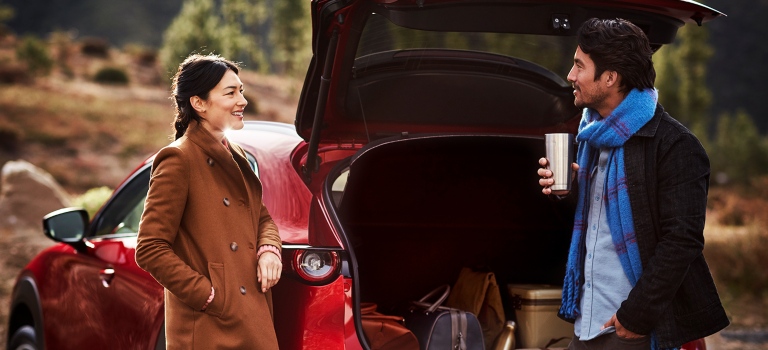 How does the 2020 Mazda CX-30 power liftgate work?
A power liftgate sounds like just a simple convenience feature, but it actually proves to be very useful. For starters, you can pop the liftgate for yourself or other people and have it open up wide for you. You can also close it by the touch of a button. What's more, you can set the height that it opens to. This is wonderful for those with garages where a normal liftgate might hit something and it's wonderful if you are short too. This feature comes with the Premium package.
What seating material comes with the 2020 Mazda CX-30 Premium?
The Premium package on the 2020 Mazda CX-30 is the only trim that comes with genuine leather. Most other trims include leatherette seating and the base trim includes a cloth interior. The leather interior is available in either a black finish or a gorgeous white finish.